Hidden Heroes brings vital attention to the untold stories of military caregivers and seeks solutions for the tremendous challenges and long-term needs they face.
Our goals:
Raise awareness of the issues military caregivers confront every day

Inspire individuals, businesses, communities, and civic, faith and government leaders to take action in supporting military caregivers in their communities

Establish a national registry, encouraging military caregivers to register at HiddenHeroes.org to better connect them to helpful resources and support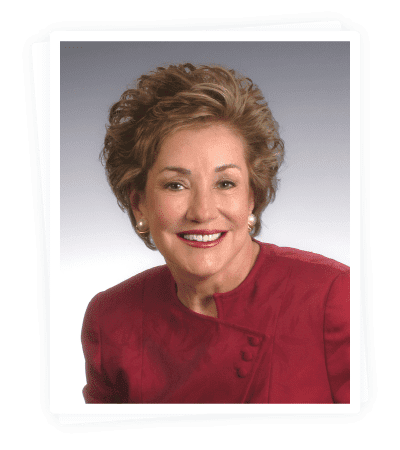 A Note From
Founder Senator Elizabeth Dole
"When my husband Bob Dole was admitted to Walter Reed Army Medical Center for an extended period of time in 2011, my eyes were opened to the tremendous challenges facing the loved ones caring for our wounded, ill and injured warriors. Following Bob's hospitalization, I established the Elizabeth Dole Foundation to help raise awareness and seek solutions for our military caregivers.
We commissioned the RAND Corporation to conduct the first national comprehensive evidence-based study of military and veteran caregivers. The research revealed a societal crisis requiring a holistic national response. There are more than 5.5 million military and veteran caregivers in the United States. Countless spouses, parents and other loved ones transform their lives and set aside their own careers to care for those who cared for us. In most cases the caregivers begin this journey in total isolation, without any support.
Hidden Heroes is our way of providing these selfless men and women serving in the shadows with the help and recognition they deserve."
– Senator Elizabeth Dole, @DoleFoundation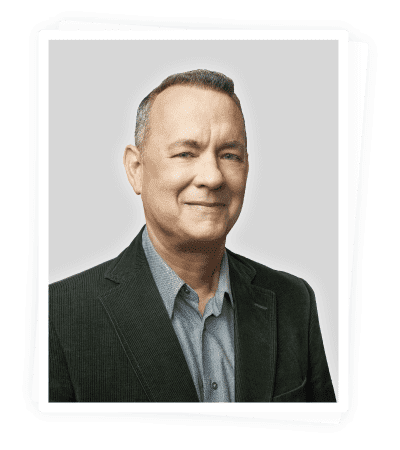 Campaign Chair
Tom Hanks
Hidden Heroes Campaign Chair, Tom Hanks, uses his voice to bring attention to our nation's military caregiving crisis. With his dedication to the campaign, we are breaking down barriers and providing military caregivers with the help they so desperately need.
"Unseen and undefined, there are millions of heroes who are caring for our wounded veterans each day. I join with Senator Dole in this important national campaign to make us all aware of these hidden heroes – to acknowledge what they do … to connect them to valuable resources. Military caregivers rarely ask for help, but they deserve our support."
Follow Tom Hanks on Twitter.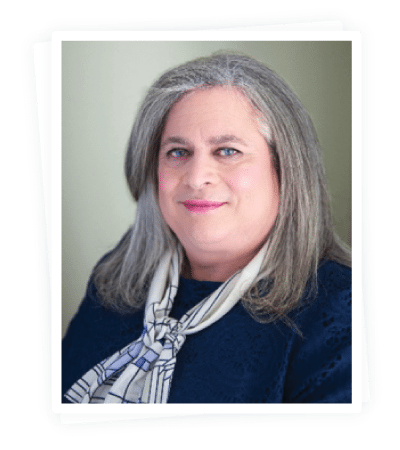 Campaign Vice Chair
Jennifer Pritzker
Jennifer N. Pritzker is President and CEO of Tawani Enterprises, Inc., a private wealth management and venture capital organization. She is also the President and Founder of the Tawani Foundation and Founder and Chairwoman of the Pritzker Military Museum & Library. She enlisted in the U.S. Army in 1974, serving until 1977 with the 82nd Airborne Division. She was commissioned by the U.S. Army in 1979 and served on active duty from 1979 to 1985 with the 101st Airborne Division and VII Corps Germany.
From 1985 to 2001, she served in the U.S. Army Reserves and Illinois Army National Guard. She retired with rank of Lieutenant Colonel and subsequently received an honorary promotion to full Colonel in the Illinois Army National Guard. She is dedicated to preserving military history, and as Vice-Chair of Hidden Heroes, supporting those who care for our nation's servicemembers and veterans.
Connect with Jennifer Pritzker on Twitter.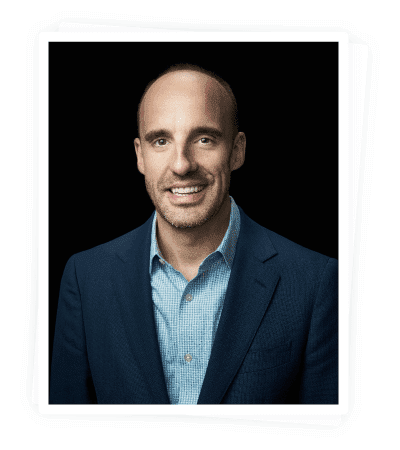 CEO
Steve Schwab
Steve Schwab is a national leader and voice for the nation's 5.5 million military and veteran caregivers and their families. He has closely advised senior leaders in every sector, addressed audiences across the country, and testified before Congress about the challenges faced by America's military caregivers and how our nation can do more to support these incredible Hidden Heroes.
As CEO of the Elizabeth Dole Foundation, Steve spearheads the country's preeminent organization empowering, supporting, and honoring military and veteran caregivers. Previously, as Executive Director, Steve led the Foundation's staff, programs, development, and partnerships, managing the launch of the Hidden Heroes campaign, establishing the Hidden Heroes Cities program, and successfully championing the expansion of the Department of Veterans Affairs' (VA) Program of Comprehensive Assistance for Family Caregivers to caregivers of every war era. In 2018, Steve led the Foundation's inaugural signature fundraising event, Heroes and History Makers: An Evening with Elizabeth and Bob Dole.
Steve also chairs the Board of Directors of PsychArmor, the nation's premier non-profit for providing free education and support for all Americans to engage effectively with the military community. Previously, Steve was head of external affairs for the National Cathedral, overseeing fundraising, marketing, and communications.
Steve came to the Washington, DC area after serving in three senior leadership roles in his hometown of Rochester, NY. He was Vice President for Development at the Rochester Philharmonic Orchestra after serving as Deputy Chief of Staff to Rochester, NY Mayor Robert J. Duffy and just prior as head of corporate development and relations for Rochester Institute of Technology. Steve started his career in New York City where he first worked in politics and then served subsequently as Special Assistant to the President and Director of Development for the New York City Partnership and Chamber of Commerce.
Follow Steve Schwab on Twitter.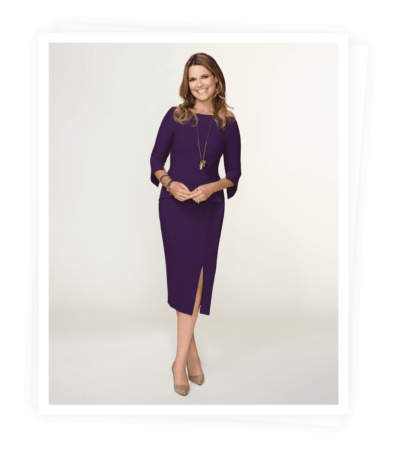 Co-Anchor, NBC News' "TODAY"
Savannah Guthrie
Savannah Guthrie is the co-anchor of NBC News' "TODAY." She also serves as NBC News chief legal correspondent. Guthrie joined "TODAY" as a co-host of the third hour and chief legal correspondent in June 2011.
Since joining "TODAY," Guthrie has conducted a wide range of exclusive interviews with news-makers including then Republican presidential nominee Donald Trump, President Barack Obama, former U.S. Secretary of State Hillary Clinton, Facebook founder and CEO Mark Zuckerberg, U.S. Ambassador to the U.N. Samantha Power and former U.S. Representative Gabby Giffords. She has sat down with other notable figures including Cleveland kidnapping victim Michelle Knight, former Navy SEAL Robert O'Neill and Defense Secretary Ashton Carter. Guthrie has also interviewed numerous celebrities from Meryl Streep and Jennifer Garner to Johnny Depp and Beyonce Knowles.
Guthrie was a primary anchor for the network's primetime 2018 midterm election coverage and the 2016 presidential election coverage, including NBC's special reporting on the Republican National Convention and the Democratic National Convention, offering thoughtful insight and analysis. During both the 2018 and 2016 elections, more viewers turned to NBC News and MSNBC for politics coverage than any other television network. Guthrie has also anchored major breaking news events including the Pittsburgh synagogue shooting, Brussels attacks, the 2015 Paris attacks, the Boston Marathon bombing, the Charlie Hebdo shooting in Paris, and the 2013 Moore tornado. She has also anchored from the 2014 Winter Olympics in Sochi and the 2012 Summer Olympics in London. As part of her work on TODAY, she received a 2012 Daytime Emmy for Outstanding Morning Show.
Prior to joining "TODAY," Guthrie served as NBC News white house correspondent from December 2008 to June 2011 where she contributed to all NBC News properties, including "NBC Nightly News," "Today" and MSNBC. While in that role, Guthrie extensively covered the 2008 presidential election, travelling with Sarah Palin's campaign, and she was part of the NBC News team that won a 2009 Emmy for its election night coverage. She also broke exclusive details of the events surrounding Osama Bin Laden's death in May 2011. Guthrie served as co-host of msnbc's "The Daily Rundown" from January 2010 to June 2011.
In 2002, Guthrie received her Juris Doctor from Georgetown University Law Center, where she graduated magna cum laude. She graduated cum laude from the University of Arizona with a Bachelor of Arts degree in journalism in 1993. She received the top score on the Arizona Bar Exam in 2002.
Guthrie is a New York Times bestselling author for her books "Princesses Wear Pants" and the sequel "Princesses Save the World." Guthrie is married to communications consultant Mike Feldman and the couple has a daughter, Vale, and a son Charley.
She is on Twitter at @SavannahGuthrie.
Actor
Jocko Sims
Jocko Sims stars as Dr. Floyd Reynolds on the NBC drama "New Amsterdam."
Sims is an actor, writer and producer with roles in numerous film and television projects, including "Dreamgirls," "Jarhead" and 2014's summer box office hit "Dawn of the Planet of the Apes."
Sims' had a lead role opposite Dennis Hopper in the Starz original series "Crash," which ran for two seasons.   His next lead role was as Lt. Carlton Burk in the TNT network hit "The Last Ship," which lasted for 5 seasons.  In between seasons of "The Last Ship" he portrayed Robert Franklin on the second season of Showtime's "Masters of Sex."  Other television credits include "Grey's Anatomy," "Franklin & Bash," "Castle," "NCIS," "Burn Notice," "CSI," "Bones" and Showtime's "I'm Dying Up Here."
As a writer and director, Sims is currently producing a coming of age comedic short film called "Grown," and has various TV series in development as well. His hobbies include producing music and managing music artists, and he loves cooking as demonstrated on "Home and Family" and "The Steve Harvey Show."
Originally hailing from Texas, Sims graduated from UCLA with a B.A. in theater. He currently resides in New York.
Follow Jocko Sims on Twitter.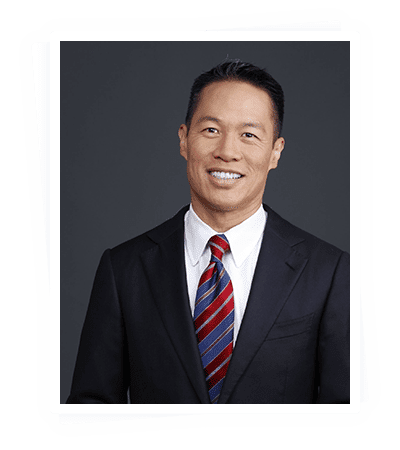 Anchor, MSNBC
Richard Lui
Richard Lui is a veteran journalist and news anchor currently at MSNBC and formerly CNN Worldwide. In 2007 Lui became the first Asian American male to anchor a daily, national news broadcast in the U.S. Most recently, Lui reported on the ground on the Paris and San Bernardino Terror Attacks and in Ferguson and Baltimore during heightened unrest.
For 15 years Lui's reporting has focused on politics, covering every U.S. national election since 2004. He has interviewed hundreds of politicians, from Detroit Mayor to U.S. President. He has been a contributing columnist for USA Today, Politico, Seattle Times, Detroit Free Press, Huffington Post, and others.
Lui is Caregiving Champion for the Alzheimer's Association and AARP, and a Hidden Heroes Ambassador. He currently travels between the East and West Coasts to care for his father who has Alzheimer's.
Lui is also a technologist with a wide-reaching business career, launching six technology brands over three technology cycles, most recently a Silicon Valley artificial intelligence company in 2016. While at Citibank Singapore, he co-founded and patented a Visa-like payments backbone and was a management consultant at Mercer for an IBM joint venture. Lui sits on four boards of directors / advisers in spaces ranging from international relations to artificial intelligence, as well as for Annie Cannons, a not-for-profit that teaches coding skills to survivors of human trafficking and violence against women. Lui is also a 2016 Governance Fellow for the National Association of Corporate Directors.
In addition to being a team Emmy and team Peabody recipient, he is ranked globally in the top 1% of social media users by Twitter Counter and was named one of 21 dynamic careers to watch alongside Warren Buffet and Sheryl Sandberg by Business Insider.
Follow Richard Lui on Twitter.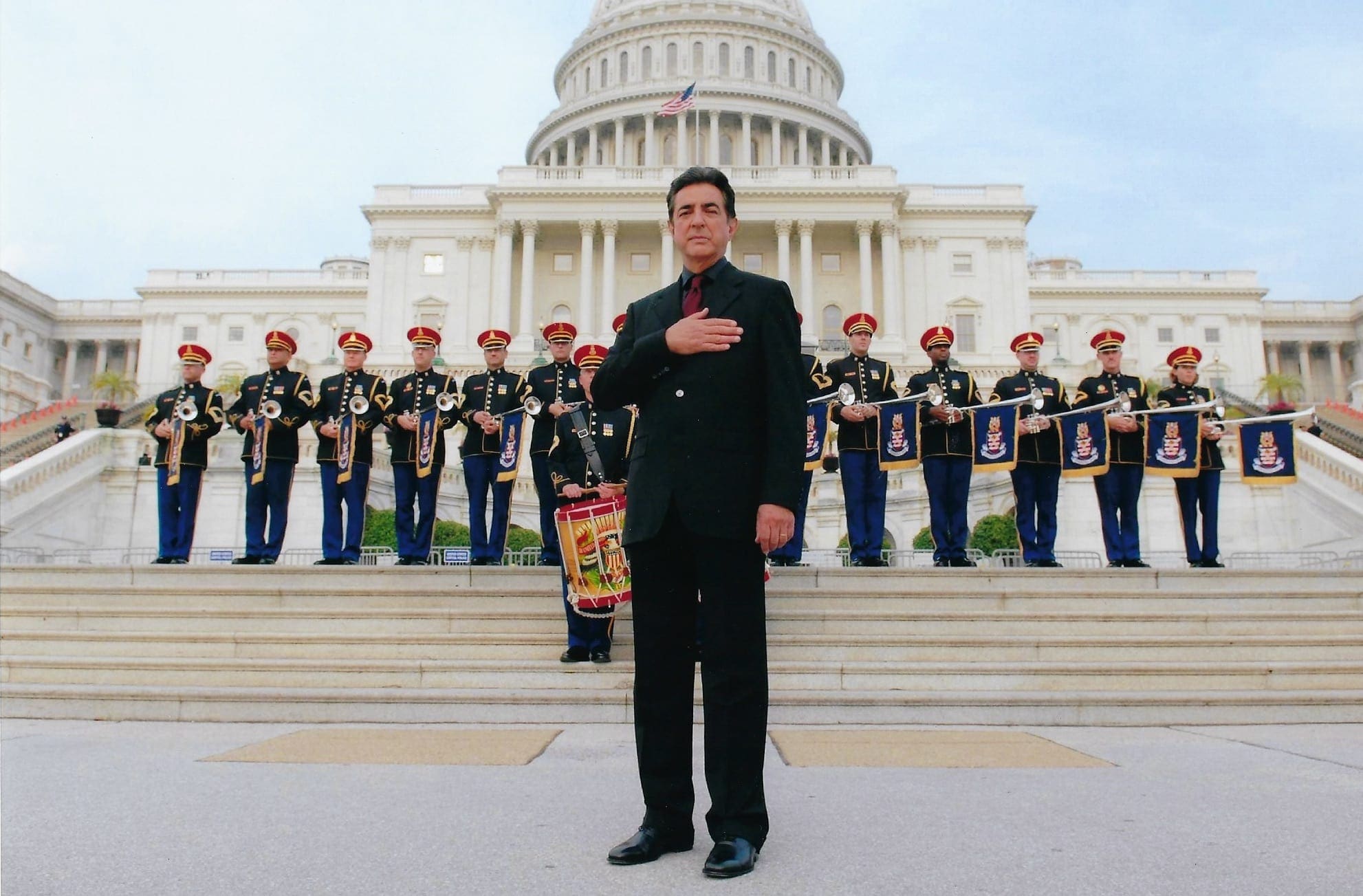 Actor
Joe Mantegna
Joe was awarded the Tony and Joseph Jefferson Award for his acclaimed performance as Richard Roma in David Mamet's Pulitzer Prize-winning play Glengarry Glen Ross.  Some of Joe's film and television highlights are; House of Games, Searching for Bobby Fisher, Godfather III, his Emmy and Golden Globe nominated role of Dean Martin in The Ratpack, his Emmy nominated role of Pipi Delana in "The Last Don," and the voice of Fat Tony on The Simpsons. For two seasons Joe stared with Mary Steenburgen and Amber Tamblyn in the critically acclaimed CBS drama Joan of Arcadia, winner of the 2004 People Choice Award for best new drama as well as picking up three Emmy nominations. In 2008 Joe reprised his Emmy nominated role of Lou Manahan opposite Debra Messing in USA Network series The Starter Wife. Joe has also lent his voice to the Disney/Pixar film, CARS2 and continues his 23-year run as Fat Tony on The Simpsons. In April of 2011 Joe received a Star on the Hollywood Walk of Fame.
Joe lends much of his free time to a number of philanthropic endeavors. In May of 2012 Joe was appointed the National Spokesperson for The U.S. Army Museum, to lead the fundraising campaign to build the long-planned National Museum of the United States Army. He's also an ambassador for the Gary Sinise Foundation, which builds homes for wounded veterans, as well as hosting the National Memorial Day Concert since 2006. His passions also include various autism related charities as well as being a long time supporter of the Barbara Sinatra Center for Abused Children.
In 2014 Joe received the Lifetime Achievement award from the Hollywood Chamber of Commerce for his dedication to the community and craft of acting. Currently Joe stars as FBI Special Agent David Rossi in season fourteen of the Hit CBS Drama Criminal Minds as well as hosting and producing duties for eight seasons on "Gun Stories" for the Outdoor Channel.
Joe resides in Los Angeles with his wife of 40 years Arlene, and their two daughters Mia and Gia.
Follow Joe Mantegna on Twitter.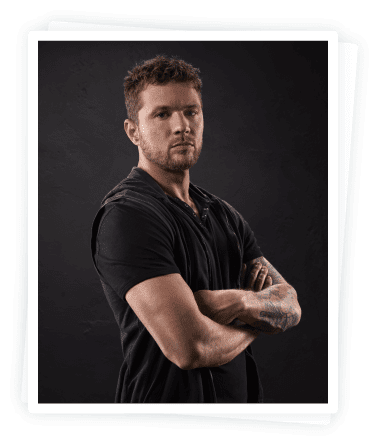 Actor
Ryan Phillippe
Ryan Phillippe stars in USA Network's conspiracy thriller SHOOTER as Bob Lee Swagger, an expert marksman living in exile who is coaxed back into action by his former commanding officer Isaac Johnson (Omar Epps, "House").
A multiple award-winning actor, Phillippe most recently appeared on television in "Secrets and Lies" where he starred opposite Juliette Lewis. Previously, he was seen on "Damages" playing Channing McClaren in the acclaimed drama's final season. In his directorial debut, Phillippe also co-wrote, produced and starred in "Catch Hell." Recent film credits include his role opposite Matthew McConaughey and Marisa Tomei in "The Lincoln Lawyer," Steven Silver's "The Bang Bang Club," Clint Eastwood's "Flags of Our Fathers" and "Breach" starring opposite Chris Cooper.
Since the film "White Squall" with director Ridley Scott, Phillippe has worked with top-level caliber talent, including Robert Altman's Oscar-nominated film "Godsford Park," "Igby Goes Down," "Antitrust" co-starring Tim Robbins, "Company Man" with Sigourney Weaver, "The Way of the Gun," "The I Inside," and the Academy Award-winning film "Crash" directed by Paul Haggis.
Phillippe can also be seen in, Paramount's war-drama, "Stop-Loss," alongside Joseph Gordon-Levitt and Channing Tatum, "MacGruber" with Will Forte and Kristen Wiig and box office smash hits; "I Know What You Did Last Summer," "Cruel Intentions" and "54" with Mike Myers.
Follow Ryan Phillippe on Twitter.
Photo credit: USA Network/James Dimmock.
Special Correspondent, NBC News
Tom Brokaw
Tom Brokaw has spent his entire distinguished journalism career with NBC News beginning in 1966 in the Los Angeles bureau where he covered Ronald Reagan's first run for public office, the rise of the Sixties counter culture, the assassination of Bobby Kennedy and the 1968 presidential campaign.
From Los Angeles, Brokaw went to Washington as the White House correspondent during Watergate and as the principal back up for John Chancellor as anchor of NBC Nightly News. Next stop: New York and the TODAY show followed by his appointment as anchor and managing editor of NBC Nightly News with Tom Brokaw.
In 1998 Brokaw published his first book, THE GREATEST GENERATION, one of the most popular nonfiction books of the 20th century.
Brokaw has won every major award in his craft, including Peabody, Duponts, Emmys and lifetime achievement recognition. In November of 2014 Brokaw was awarded the Medal of Freedom by President Barack Obama, the highest civilian award given to those who made "meritorious contribution to the security or national interests of the United States, world peace, cultural or other significant public or private endeavors."
Follow Tom Brokaw on Twitter.
The National Registry of Military Caregivers
The National Registry of Military Caregivers helps us identify caregivers across the country who serve our wounded veterans and servicemembers. We know there are 5.5 million military caregivers nationwide and yet many have not identified themselves as such. By connecting with caregivers through the Hidden Heroes community, the Foundation and its supporters are able to better direct services to caregivers in need.

Senator Elizabeth Dole witnessed the challenges facing the loved ones who care for our wounded warriors when her husband, Bob Dole, underwent treatment at Walter Reed Medical Center. Following his release in 2012, she founded the Elizabeth Dole Foundation to uplift American military caregivers and their families by raising public awareness, driving research, championing policy, and leading collaborations that make a significant impact on their lives.