Never give up, there is always hope! There are several tools and programs to support military and veteran caregivers.
What is the most difficult thing about your daily routine?
Not knowing what the day will bring, it's like a surprise. Just like Forrest Gump says, "My momma said, life is like a box of chocolates, you never know what you are going to get." This is the truth.
What does being a military caregiver mean to you?
It is an honor to assist my son in whatever capacity he requests. He has given so much of himself for our country and I feel honored that he trusts me to fulfill this role. Being a caregiver is not always easy but having experience as a nurse has assisted me in many ways to understand and communicate effectively.
How has your life changed since you became a caregiver? What sacrifices have you had to make?
I don't see them as sacrifices, but opportunities. I retired from my long-standing job to be available for my son's needs and my life has moved in a new direction.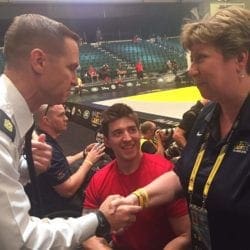 My Story
Shirley Stanton of Alden, New York is a caregiver for her son Tim, one of her four sons who all served in the military. Tim joined the Army in 2003 and served two tours in Iraq and one in Afghanistan. While in Afghanistan in 2011, he stepped on an improvised explosive device (IED) suffering catastrophic injuries. He lost both legs and severely injured his left forearm. Tim was taken to Germany for treatment. After he was stabilized, he was transported to Walter Reed National Military Medical Center.
Shirley took family medical leave to support her son. She did not immediately serve as his primary caregiver, but following Tim's divorce, Shirley took on the role in 2014. Today, she helps Tim, who is wheelchair-bound, with scheduling medical appointments, shopping, cooking, and cleaning the house.
In addition to serving as her son's caregiver, Shirley is a registered nurse. Her nursing experience has helped prepare her when things go awry. Shirley and Tim love to travel together. Tim participated in the Invictus Games in Florida in 2016 and again in 2018, in Australia.
As a Dole Caregiver Fellow, Shirley looks forward to sharing her journey as a mother caring for her wounded son and finding support from caregivers who are on a similar journey.