It was several months into our relationship when I heard the term caregiver and I applied it to myself.
Do you have any hobbies particularly any that may relate to your caregiving?
My husband and I like to travel. It is a great stress reliever for us. We have also become involved in the marriage ministry at our church. It is something that we can do together for our marriage. We are also involved in a non profit called Warriors Ascent. This gives me the chance to help others who are caring for wounded warriors and gives my husband a way to give back and utilize his coping skills to help with the post traumatic stress disorder (PTSD).
How has your life changed since you became a caregiver? What sacrifices have you had to make?
Meeting my husband has been one of the greatest highlights in my life. I feel like the Lord put me in this spot because he saw the strength that I have which is so needed being a caregiver. Is it hard? Yes! The biggest changes that I have made are in my career. It isn't about what I need to do to advance. It is about what position I need to be in to better care for and be there for my husband.
What are the most significant lessons you have learned from being a caregiver?
You can't do it without help and resources! You have to care for yourself first. If you aren't in a good spot there is no way that you can be there for your wounded veteran.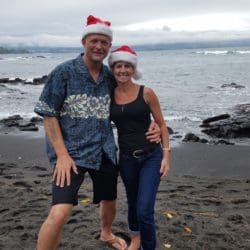 My Story
When Shawn met her husband, Bryan, he had just been medically retired after serving 23 years in the Army. He was a member of the 160th Special Operations Aviation Regiment. Their motto is "Night Stalkers Don't Quit." After completing seven tours to Afghanistan, he found his mental health declining and made the decision to step down as First Sergeant. He now suffers from the guilt of needing to "Quit." He had been on the verge of committing suicide at the time.
Only after returning home did Bryan realize the extent of his PTSD. The injury to his back only seems to exacerbate the symptoms of the PTSD. Not only is Shawn Bryan's caregiver, she is a mother to four daughters and two step sons, and a grandmother to four children.
Shawn was a 14-year veteran with the Kansas City, Missouri Police Department. She recently graduated with a Masters in Social Work from Park University and is licensed with the State of Missouri and Kansas. She was awarded the Field Education Student of the Year for 2018-2019 with Park University. Shawn is a member of the Phi Alpha Pho Epsilon Honor Society and was the 2019-2020 President at Park University. She is a certified Peer Mentor and Facilitator with the Red Cross Military and Veteran Caregiver Network, as well as a Peer Mentor with the VA Caregiver Program. She was a Caregiver Visionary winner for Caregiving.com in 2019.
Shawn openly shares her caregiver story throughout the United States in hopes that all family caregivers will be recognized for the work they do to take care of our wounded veterans. She has a passion for supporting and advocating for military and veteran family caregivers. As a Dole Caregiver Fellow, Shawn hopes to shed light on the value of caregivers when called to the homes of veterans and military members that are suffering.