You are your veteran's number one advocate.
What are you most excited to do as a Dole Caregiver Fellow?
I'm honored to have the opportunity to help other caregivers navigate this role, particularly in rural areas where we don't have the resources that many others have.
At what moment did you realize you were a military caregiver?
From the moment I got the phone call saying my husband was injured, we began learning how difficult it would be to navigate the military and military health care systems. I realized I had become a full-time military caregiver when my husband was transferred to a VA setting where it felt unsafe for him to be left alone and trust that we would get the proper care. From getting his room cleaned to making sure he was taken to his therapy appointments; I became a full-time military caregiver during his first night there.
How has your life changed since you became a caregiver? What sacrifices have you had to make?
From the point of injury, 'new normal' became our life. I had to resign in my first year of teaching and his need for full-time care meant I couldn't return. I packed up two toddlers and moved over 1500 miles from my family and the only home I'd ever known for a full year of hospitals and rehabilitation. Our children have had to face many challenges as part of our 'new normal' their entire lives. Corey has and will always need 24/7 care, and the days are also filled with a full-time job of parenting, full-time days of dealing with medical needs, and full-time days of addressing his needs through the military health care system.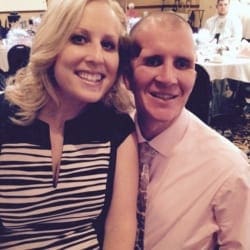 My Story
In 2005, Jenny Briest was a 23-year-old teacher and mother of two when her husband Corey deployed to Iraq with the South Dakota National Guard for the second time. A few months into his deployment, Corey was injured in an Improvised Explosive Device (IED) blast that killed three of his fellow service members. Early news of the incident led Jenny to believe Corey would also lose his life. She began contemplating the worst and thinking about Corey's funeral when a doctor told her that Corey seemed to be holding on to his brain function. 
Corey returned home blind and dependent on a wheelchair. Jenny had to move her family across the country from their home in South Dakota for 18-months while Corey recovered in hospitals and rehabilitation centers. Her hardest challenge as a caregiver was her constant battle for Corey's medical benefits to pay for cognitive care that would enable him to eventually live at home. Thankfully with the help of their doctor and their congressional leaders, they were able to obtain those benefits, though Jenny still struggles with navigating the VA at times.  
As Corey's caregiver, Jenny supports him in every aspect of the day including meal prep and managing medications. Jenny has lobbied with the Wounded Warrior Project (WWP) for the Caregiver Act, appeared as a spokesperson for a WWP commercial, and met with senior leaders at the VA to provide input on the VA Fiduciary system. In their free time, Jenny and Corey and their family enjoy attending school events and time at their cabin, swimming, boating, and floating, doing their best to live their 'new normal' to the fullest.