Surround yourself with a network of caregivers, they will become your lifeline, your saving grace.
What does being a military caregiver mean to you?
It means doing whatever is in my power to make sure my husband is getting the very best treatment, whether that care is coming from me, or various health care professionals. Our disabled service members deserve the best, and it's my job as a caregiver to make sure my husband receives the best care possible.
How has your life changed since you became a caregiver? What sacrifices have you had to make?
My whole world shifted when I became a caregiver. Instead of pursuing my own personal goals, I focused entirely on my husband's care. I traded in a lab coat and microscope for doctor appointments and medications.
What is one piece of advice you would offer to other military and veteran caregivers?
Build and surround yourself with a network of caregivers; they will become your lifeline, your saving grace. Positive caregivers will support and build you up in ways you can't even imagine, they will help you discover the paths and resources needed to make it through this new life.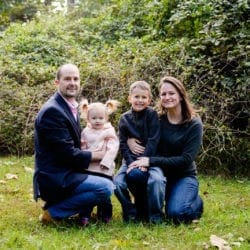 My Story
Deborah Elliott of Fairfax, Virginia is a military caregiver to her husband Tommy, a retired Marine Corps Captain. Deborah strives to bring humor and positivity into her role as a caregiver.
Tommy became ill during a 2010-2011 deployment on an aircraft carrier, the USS Kearsarge, in support of Operation Enduring Freedom. Despite having successfully finished his mission, Tommy returned home, suffering from Crohn's Disease, memory loss, migraines, and several other chronic physical health issues. He was admitted to the ER at Walter Reed for treatment of his injuries and illness. Having just earned a bachelor's degree in biology, Deborah had intended to pursue a graduate degree and seek a career in microbiology. However, those plans came to a halt when Tommy became ill.
While taking care of her husband's needs, managing appointments, and medications, Deborah has experienced the struggles of caregiver burnout. Because her husband's disabilities were not all combat injuries, Deborah struggled to be recognized as a caregiver by Tommy's physicians.
Deborah recently completed the Dog Tag Bakery Fellowship and realized she wanted to be a stronger advocate for her fellow caregivers. When she is not caring for Tommy, or their seven-year old son and two-year old daughter, Deborah enjoys listening to music, cross stitch, and working puzzles.
As a Dole Caregiver Fellow, Deborah's goal is to encourage Virginia cities to become Hidden Heroes Cities. Additionally, she hopes to focus on issues related to military children and work toward better inclusion of caregivers in the official Soldier for Life-Transition Assistance Program's (SFL-TAP) process.