He has done his duty, now I do mine.
What is one piece of advice you would offer to other military and veteran caregivers?
Be sure to take care of yourself; self-care is vital! Whether it's a ritual Sunday hour-long bubble bath with candles and Beethoven's "Moonlight Sonata" playing in the background, or taking that painting class you always dreamed of doing at your local art store, do something for you. And above all, DO NOT feel guilty about it!
What does being a military or veteran caregiver mean to you?
My life as a caregiver is one that is full of deep honor and equanimity. It is an honor to take care of my husband, who served during wartime. It has not always been easy to deal with doctors, diagnoses, PTSD, and the ebb and flow of our marriage, but when I am calm and composed for my husband, he stays calm and composed. I love analogies, and my life reminds me of a swimming duck. On the surface the duck seems to just be gliding along smoothly. But underneath that smooth sailing, that duck's little feet are going as fast as they can. As long as I stay smooth and calm on the outside, no matter how tumultuous I feel on the inside, and remember God is always on my side, we will be ok.
How has your life changed since you became a caregiver? What sacrifices have you had to make?
Since becoming a caregiver, I have realized just how selfish I used to be; the world always revolved around me and my needs. Now, the needs of my husband come first. Some days it is like trying to balance on a needle; taking care of his emotional needs and trying to take care of myself so my own gas tank does not run out. I have sacrificed much social time. My girlfriends do not understand; they are not military wives. My husband is my best friend. We do just about everything together. This pandemic has brought us even closer together, and I truly believe that is because of the strong faith in God we put at the center every day. So maybe it is really not about sacrifice as it is about a change of perception.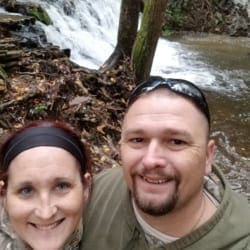 My Story
In 2018, April Mulvey married her husband, Billy after meeting four years earlier at church. Billy served in the Marine Corps for six years and suffers from post-traumatic stress disorder (PTSD). 
When April and Billy first began dating, she noticed that he was constantly aware of his surroundings. When they moved in together, seeing Billy struggling with nightmares and not wanting to talk about his experiences overseas broke April's heart. The only time he talked about his trauma was when he gave a statement to receive VA medical benefits after April encouraged him to apply. 
April realized she was Billy's caregiver in June 2018 when he fell and hit his head. When Billy told April about the fall a few days later, she immediately took him to the emergency room where he was diagnosed with a concussion that had compounded several others that happened during his military service. The concussion caused permanent damage, leaving Billy in constant pain, unemployed, and unemployable. Without being able to work, Billy and April lost everything, making Billy feel that he lost part of his dignity as a Marine and as a husband because he could not provide for his wife. At the worst moment, they struggled with homelessness. Thanks to the help of local veteran organizations and friends, April and Billy were able to get back on their feet. 
As Billy's caregiver, April manages his doctors' appointments and medications in addition to performing household duties. April is also involved with Common Ground Recovery Community, a center with an outreach program for those suffering from grief, loss, and addiction where the unconditional love of Christ helps to bring those suffering find love and acceptance.