What You Need to Know About Free Care Services from the Elizabeth Dole Foundation 
For every reason not to utilize respite, there are 10+ more reasons why you should.
Let's be honest… respite gets a bad rep. Respite, which is described by AARP as "a temporary substitute assistance that allows family caregivers to step away from their duties for a bit," is arguably the most controversial, yet one of the most important support services available to caregivers. Taking time to step away from caregiving roles is critical. But we understand it's much easier said than done.
The Elizabeth Dole Foundation and AARP came together to set the record straight. Through "Debunking the Myths of Respite," we sparked an honest conversation about respite in the military and veteran caregiver community and responded to live questions from caregivers nationwide. 
This discussion is super timely, as the Foundation forged a new partnership withCareLinx, AARP, Wounded Warrior Project, the U.S. Department of Veterans Affairs, and Bob Woodruff Foundation to offer FREE respite relief support to military and veteran caregivers nationwide. As of February 2021, more than 600 caregivers have received support through this program. We've received incredible feedback from caregivers and are so glad to hear this program is providing quick relief to so many right now.
Sooo what is respite? Respite offers the opportunity for spouses, parents, children, friends, and loved ones who care for a service member or veteran at home to take a break or get some extra help with everyday chores that add up. Despite the success of the program, we understand there are lots of misconceptions, myths, and concerns caregivers have about respite that often prohibit them from taking advantage of this free resource. 
Our group of panelists, which included Amy Goyer, Family & Caregiver Expert, AARP; Sharon Grassi, veteran caregiver; and Rashi V Romanoff, Vice President for Programing & Partnerships, Elizabeth Dole Foundation; addressed concerns, and provided a convincing case as to why help through our new respite program is definitely worth applying for!
---
Myth #1: My care recipient is young. Respite care is only for those over 65.
Fact: It doesn't matter if your care recipient is young or old. Every caregiver can benefit from and is deserving of respite. Respite is a break, and a practical service no matter who you're caring for. "We have to fill ourselves up and take care of ourselves, [yet] we run on empty in order to keep giving," says Amy Goyer, AARP's Expert on Caregiving, who has been a family caregiver her entire adult life, caring for her grandparents, parents, sisters, and other relatives and friends.
Roughly one-third of caregivers are 30-years-old or younger, as reported by the 2014 RAND Report on military caregivers, commissioned by the Elizabeth Dole Foundation. They're caring for spouses, siblings, friends, and will likely be doing so for the rest of their lives. 
The nation's youngest generation of veterans are also cared for by a parent like Sharon Grassi, Arizona veteran caregiver to her son, Derek, who's in his 30s. After three deployments to Iraq and Afghanistan, Derek now suffers from damage to his spine, chronic post-traumatic stress disorder (PTSD), post-concussion syndrome, sleep apnea, and more. 
"I was a mom, a military mom, and then I was just helping my son, so I was back to taking on that mom role. It took a really long time to realize I was a caregiver," says Grassi. She helps care for her son by managing his day-to-day life, scheduling appointments, and navigating medical care; a great deal of involvement, despite his wounds being invisible. 
"Our veterans who are coming home are younger, and they need help, and the veteran population doesn't fit that mold."
Myth #2: My veteran will lose their sense of independence and feel weak if I bring in home-care.
Fact: Your veteran may not initially be comfortable with the idea of someone other than you caring for them which is common, says Goyer. Having an open conversation with your veteran about your wellbeing is incredibly important. Let your veteran know it's not that you don't want to care for them, but you need time to recharge in order to continue caring for them. 
"Look at respite as a gift to your veteran. It can be a cognitive stimulation for them. And that respite worker can come in and help, so you can sit and be a wife, a mother, or a daughter, just give you time to have that role as well." 
Veterans also have an innate nature to care or do something for someone else, and they've lost that ability occasionally. "Let your veteran know that by being receptive to respite, they're helping you, the caregiver. That helps them participate a little more," says Grassi. 
If you talk to your veteran and learn they still aren't comfortable with someone else coming to help out while you're out of the house, the care provider can still clean your house, clean out a closet, or do something like run errands for you so that you can just sit and be a wife, or a mother, or daughter, and hang out with the person you're caring for. Sit down and relax with your loved one while a care provider checks tasks off of our to-do list!
Myth #3: If I use respite care services, people will think I'm not a committed caregiver.
Fact: Humility is a strong characteristic of the military and veteran caregiver community. Caregivers always think someone may have it worse than them, excusing their opportunity to take advantage of a valuable resource like respite. "You don't have to diminish what you're going through. Caregiving is a huge range and across a spectrum. Whether you're a caregiver on either end of the spectrum and everywhere in between," says Goyer. 
As a caregiver, you're part of a team; and in this case, respite workers are part of your team. In coordinating your veteran's care with Respite Relief, you're still doing your job as a caregiver, but with the help of an extra set of hands.
 "As caregivers, we guilt ourselves into doing more, and feeling like we're not doing enough," says Grassi. We need to stop worrying about what someone who doesn't walk in our shoes daily" thinks. "Those who know what we're going through will push us to use those services. Respite is well-deserved." 
Myth #4:
Respite services are super specific and don't provide me the help I need. 
Fact: CareLinx care providers do not perform advanced medical assistance or procedures, which make it easier for you to decide what you can ask them to help you with. Try answering the questions, "What are the things that you either don't need to do or don't want to do?'" says Goyer. We each have our own list or preferences that we solely handle in our veteran's care, such as scheduling appointments, medication organization, and toileting and transportation. 
Day-to-day tasks such as housekeeping, laundry, grocery shopping can be done by another individual. These are 'the little things' that can add up and make caregiving even more stressful. By the care provider handling the tasks that do not require your immediate attention, you can take the break you deserve or focus your attention elsewhere. "Think about the things that don't have to be you and that's what respite is." 
Myth #5: Respite is only for the seriously disabled, and those with visible injuries. 
Fact: Respite is for every military or veteran caregiver caring for a  veteran or service member with invisible or visible injuries alike. 
Our Respite Relief program also does not account for your veteran's disability rating. All caregivers qualify no matter what their veteran's disability rating may be. Respite Relief is for all veterans with invisible and visible wounds, illness, and injuries. And while the Foundation partners with the U.S. Department of Veterans Affairs to spread the word about the free assistance, Respite Relief does not impact a caregiver's eligibility for the Program of Comprehensive Assistance for Family Caregivers (PCAFC). In fact, the program encourages caregivers to use such resources, shares Grassi who is part of PCAFC as well.
"One of the questions at every evaluation is 'What are you doing for yourself?' 'Are you making sure that you're ok?' They don't want stressed caregivers, so let someone know you're taking care of yourself; that you're reaching out, using programs out there to take care of yourself, get a break occasionally. They want to hear that," says Grassi.   
Myth #6:
It's hard to apply for respite services. The application process is overwhelming.
Fact: The application is available 24/7 at hiddenheroes.org/respite and can be completed in just a matter of minutes. When answering the questions in the application, 
"You don't have to write an essay…just simply state 'I am stressed and overwhelmed,' or 'I'm trying to take good care of myself," says Goyer. Caregivers are the most critical component to a strong, successful, independent veteran, and must be cared for as well. 
The application is super simple. Here's how to apply: 
Step 1 – Go to hiddenheroes.org/respite and click the orange/peach button that says "APPLY NOW –>."
Step 2 – Click the blue button that says "Apply."
Step 3 – If you don't already have a SurveyMonkey account, click the grey box "Register" on the top left of the screen and enter your email address and a password. 
Step 4 –  Once you've registered and logged in, click "Application" under the section labeled "Your Tasks." Fill in the brief questionnaire and click "Mark as Complete" at the bottom of the survey when you're done. 
Step 5 –  On the left side of your screen or under the "Your Tasks" section, click "Verification Document Upload." This will prompt you to upload ONE of the following: your service member or veterans DD214, Certificate of Discharge, Military ID Scan, PCAFC letter/ID, VA Disability Award Letter, Warrior Transition Unit or Wounded Warrior Battalion official letter. Once you've uploaded, click "Mark as Complete."
Step 6 – Once you've completed the application and the verification document upload, click the grey button that says "Submit." 
Take advantage of our Respite Relief program…military and veteran caregivers like you can access FREE in-home assistance services – no strings attached. Services include housekeeping, meal prep, grocery shopping, transportation, and other services to support your veteran and give you the opportunity to recharge. Eligible caregivers will receive 24 hours of FREE services from CareLinx professionals.
---
For more information on the Foundation's Respite Relief program and start your application, visit
hiddenheroes.org/respite
.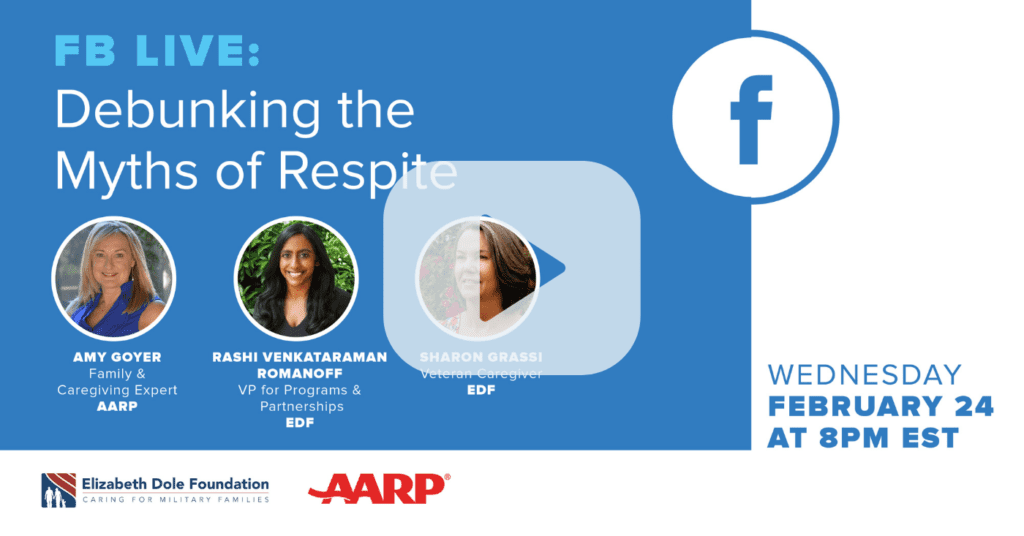 Rewatch the recording anytime on our
YouTube
channel. 
Special thanks to our partners at AARP for making this Facebook Live possible. We'd also like to recognize our expert panelists and thank them for their time:
Amy Goyer, Family & Caregiver Expert, AARP

Rashi Venkataraman Romanoff, VP for Programing & Partnerships, Elizabeth Dole Foundation 

Sharon Grassi, Veteran Caregiver from Arizona, Elizabeth Dole Foundation