Adam Driver to receive Elizabeth Dole Foundation's 2023 Tom Hanks Caregiver Champion Award on October 11
Acclaimed husband and wife duo The War And Treaty announced as the event's musical act, joining Tom Hanks, Savannah Guthrie, and Jocko Sims for the star-studded celebration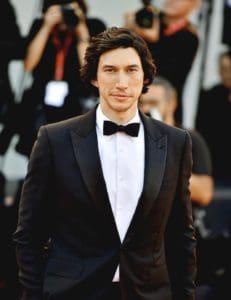 Washington, D.C (October 3, 2023) — The Elizabeth Dole Foundation has selected Marine Corps veteran and actor Adam Driver as the 2023 recipient of the Tom Hanks Caregiver Champion Award in recognition of his outstanding support of military and veteran caregivers and all who serve. Hidden Heroes Campaign Chair Tom Hanks and Hidden Heroes Ambassador, TODAY co-anchor Savannah Guthrie will present the award at the Foundation's annual Heroes & History Makers celebration, with just-announced performances by The War And Treaty, on October 11, at The Anthem in Washington, D.C.
The event is the Foundation's annual tribute to America's 5.5 million military caregivers, the loved ones who voluntarily care for wounded, ill, and injured service members and veterans at home. The Caregiver Champion Award was named for Tom Hanks in recognition of his extraordinary support of military caregivers. The award has previously been presented to former First Lady Michelle Obama, music superstar Tim McGraw, actor and humanitarian Gary Sinise, and Savannah Guthrie.
Adam Driver is a Juilliard graduate and former Marine who was with 1/1 Weapons Company at Camp Pendleton, California. He co-founded the non-profit Arts in the Armed Forces, whose programming brought the performing arts to active-duty service members and their families for over 15 years. Driver remains a lifelong supporter of the military and veteran community, and the organizations that advocate for them. In 2019, Driver recorded a powerful video sharing a caregiver-turned-survivor's story for the Elizabeth Dole Foundation.
"We are thrilled to honor Adam Driver during our celebration this year," said Steve Schwab, CEO of the Elizabeth Dole Foundation. "Informed by his own service as a Marine, Adam has used his platform to support the military community, most notably using theater and performance to bring greater understanding and healing to veterans, their families, and caregivers."
Founded in 2014 by the husband-and-wife duo Michael Trotter Jr. and Tanya Trotter, The War And Treaty has emerged as one of the most electrifying new acts in American music, earning attention for their fiery mix of soul, country, and rock. The pair is the two-time reigning Americana Music Association Duo/Group of the Year and earned Duo of the Year nominations for both the Academy of Country Music awards and Country Music Association awards. The War And Treaty has dominated stages across the globe and delivered memorable performances on Good Morning America, TODAY, Jimmy Kimmel Live!, and recently released their jaw-dropping rendition of Chris Stapleton's "Cold" which they performed in his honor at the Academy of Country Music Honors celebration. CMT notes the duo is "known for some of the most powerful voices in country music," as American Songwriter says The War And Treaty are, "widely celebrated for their tasteful blend of soul, Americana, gospel and blues—paired with an impactful message of holistic wellness and healing."
Michael and Tanya also share a personal story that connects to many of the military caregivers supported by the Foundation. Michael served in the U.S. Army from 2003-2007 and deployed to Iraq. Like many veterans, Michael continues to experience post-traumatic stress and it shaped his and Tanya's relationship in ways that have not always been easy.
Senator Dole was the first to call the nation's attention to those caring for a wounded, ill, or injured service member or veteran at home. Military caregivers face increased emotional and physical stress, financial and legal troubles, employment difficulties, and feelings of isolation due to the enormous responsibility and severe lack of resources for those caring for someone who served. The Foundation is committed to recognizing, supporting, and empowering military caregivers.
---
Media RSVPs for Heroes & History Makers are required due to expected interest.
RSVPs and interview requests regarding Heroes & History Makers should be sent to Austin Courtney, Sr Director of Communications, [email protected]. Specifics on press opportunities will be announced soon.
Tickets for the general public are available here.
---
Heroes & History Makers is made possible by presenting sponsor USAA and support from:
USAA, AARP, Bob & Dolores Hope Foundation, Diana Davis Spencer Foundation, Oracle Health, Prudential, Reach Resilience, TriWest Healthcare Alliance, American Airlines, Boeing, Booz Allen Hamilton, Comcast NBCUniversal, FedEx, Hilton, Lockheed Martin, Philips, WWP, Express Scripts, Humana Military, Leidos, Tractor Supply Company, Anna Palmer and Patrick Mellody, BCG Federal, Blue Water Thinking, CareSource Military & Veterans, CGI Federal, Fox Corporation, JP Morgan Chase, MTSI, National University, People's Television, Robin and Tom Portman, Wells Fargo, Punchbowl News, Accenture, Ambassador Bonnie McElveen-Hunter, Amazon Web Services, Bob and Candy Scherer, Disabled American Veterans, Fox News Media, GRG Strategies, Huron, Independence Fund, MicroHealth, Myles and Elaine Kelly, New York Life, Paralyzed Veterans of America, Phil and Peg Soucy, Wellpoint Federal, Amanda and Neil Bonser, Amna Nawaz and Paul Werdel, BDO, Bristol Meyers-Squibb Foundation, Carelon, Clarus Group, Coca-Cola, Jim and Linda Beers, Jobs for the Future, Joel and Nancy Kobert, K9s For Warriors, Milne, Wiener & Shofe Global Strategies, MOAA, Northport Affiliates, ORAU, SEAL Veterans Foundation, Susan Davis International, Trualta Inc., Weil, Diane Braunstein, Donald Best, Jenna and Lori Dorn, and Tom and Linda Daschle.