Take care of yourself, ask for help, and open your life to a community of support.
What does being a military caregiver mean to you?
Caregiving is loving. It means the world to me to love my husband and keep him healthy.
What are you most excited to do as a Dole Caregiver Fellow?
Being part of a wide community of carers and making a difference in the lives of carers.
What advice would you offer to other military and veteran caregivers?
Take care of yourself, ask for help, and open your life to a community of support.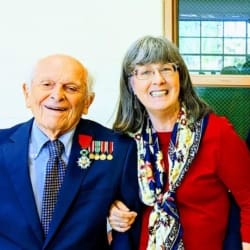 My Story
Victoria Chall met her husband George later in life. Before their marriage, Victoria worked with the homeless in Boston, sang in jazz bands, became an elementary school counselor, and volunteered with the NYC Mayor's Veterans Affairs Office helping veterans draft their resumes. On a chance trip to New York, she was introduced to George through a mutual friend, and they both felt that they belonged together.  
George, a medic during World War II, came back from Europe to take care of his mother who had suffered a partial paralyzing stroke while he was at Basic Training. He worked two jobs and began his studies at Columbia University to earn a Ph.D. in Government and Political Science.  
George was diagnosed with "Battle Fatigue," now known as Post Traumatic Stress Disorder (PTSD) but didn't have the patience or time to get treatment, so he soldiered on like many other veterans. Victoria comforts him through the nightmares and hyper vigilance he still suffers more than 75 years after the war. Additionally, now that he is over 100 years "vibrant," Victoria manages the household, bathes and grooms him daily, drives him to his physician appointments, arranges social activities, and tries to keep his life in reasonable order to avoid creating more stress than he can handle. 
After living in New York, Victoria and George retired to Fearrington Village, North Carolina in 2014. They are very involved in the American Legion, VFW, church, and military organization NC to Normandy, local cultural events, clubs, and volunteer work. They have dedicated their marriage to supporting veterans' causes. 
One of the most important things for Victoria is respite. In her spare time, she enjoys creating art, gardening, and playing with her cats. She and George are also lucky to have a great collection of family, friends, and neighbors who keep them engaged in the community, as connecting with people helps them feel less alone. She hopes to continue connecting with military and veteran caregivers across North Carolina in order to support them.