Give them comfort and love so that they feel they have a purpose in life.
At what moment did you realize you were a military caregiver?
From the moment my son awoke from his coma, I knew I was going to be his military caregiver. Caregiving for him was so hard at the beginning because I had to wage legal and financial battles to help protect him. I shared this story in the book Unbreakable Bonds: The Mighty Moms and Wounded Warriors of Walter Reed.
How has being a military caregiver changed your life?
I had to let go of a lot of stuff. I was a human resources director for 30 years before I gave it up for full-time caregiving. I had a blueprint of how my life and my retirement would go. I honestly never expected to still be working so hard.
What advice do you wish you had when you first became a military caregiver?
I didn't know much about the military. I had to learn a lot about military structures and systems. I wish I had been more forceful at the beginning. I had to learn a lot on my own, so now I try to tell other mothers how they can best help their children.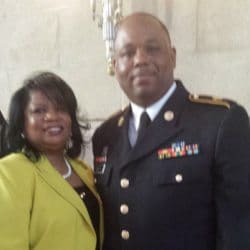 My Story
Valence cares for her son, Robert Scott III. He served in the Army and was injured in Iraq. He was in a coma with cardiac death syndrome. As his caregiver, Valence assists him with personal grooming, take care of his medications and appointments, and provide cognitive support for short-term memory loss.
As a Dole Fellow, she is particularly committed to educating caregivers about traumatic brain injury (TBI) and post traumatic stress disorder (PTSD).