I am dedicated to the life we are building together.
What does being a military caregiver mean to you?
It means continuing the service that Phil gave his country for nearly 20 years of active duty and again through his work at the Disabled American Veterans as a National Service Officer. It means honoring the value I place on my country and our freedoms by caring for our own. It means standing for what is right and good about the United States of America and respecting the sacrifices made by men and women who could only imagine what they would face when they put on the uniform. It means loving unconditionally and completely a man whose wounds may not be visible.
How has your life changed since you became a caregiver? What sacrifices have you had to make?
I have simplified my life considerably. That which is most important can appear lost in an instant when something triggers a manic episode for Phil. I spend time keeping our home and managing our domestic and social life. I am dedicated to the life we are building together.
For the first time ever, my personal life is more important than my professional life; my relationship is more important than my career. I've never only had one job – and certainly never a part-time gig! Trying to do both was too taxing on both of us. He's not great about asking for help, so I have to be able to pay attention and follow the signs as they develop.
What advice would you offer to other military and veteran caregivers?
Be willing to adjust your expectations. I recognize this may sound a bit lame, but unfulfilled expectations are the basis for every resentment a person experiences. In fact, we call expectations "pre-planned resentments." After the third trip to the ER within a two-week period, I realized that I didn't have a clue about how things were going to turn out – or how we were going to get there. But I did know I wanted to travel with him rather than without him.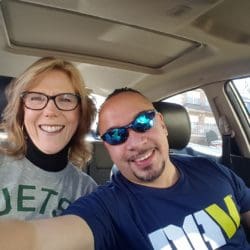 My Story
Rhea cares for her true love, who was medically retired after 18 years of service in the Army. They met a few years after his first brain surgery to remove a malignant tumor after having his skull nearly crushed in a tank turret some years before. Phil was living with post traumatic stress disorder (PTSD), migraines, fibromyalgia, and a chronic infection in his skull caused by the dead tissue remaining from the post-op chemo/radiation. When the doctors announced the infection was no longer responding to antibiotics and surgery was required to keep the infection from moving into the brain, their greatest journey began. Phil has undergone two surgeries, a craniectomy followed by a second craniotomy. Together, Rhea and Phil are learning to live and cope with all that comes with disturbing the sleeping giant called the brain, and the invisible wounds of combat. Multiple hospitalizations and nearly a year later, they have developed a language to identify the signs of an imbalance and tools to address them as quickly as possible.
The responsibility of military caregivers was unknown to Rhea before Phil came into her life. She has learned a great deal about sacrifice and service from Phil, his military family, and the caregivers she has met in the last two years. Rhea is fortunate to have a good relationship with Phil and his medical team. Learning to stand up for Phil, speaking for him when necessary and holding her ground when it's right is a continuous battle she is proud to fight. Her goal is threefold: bring the attention of outside organizations to the caregivers that serve veterans; connect military caregivers still unknown to each other through the Hidden Heroes community, and make the resources necessary for veterans and their families accessible to them – even before they need them.