You can't be there to support them if you're not taking care of yourself.
What advice do you wish you had when you first became a military caregiver?
I wish someone had told me to ask for help right away, because you shouldn't try to do this all by yourself. I quickly felt burned out. You'll have the rest of your life to do this, so ask for help, especially at the beginning.
How has being a military caregiver changed you?
My role as military caregiver has changed every aspect of my life. I was 20 years-old when Jack was injured, so I had to mature very quickly. I now know I can't just get up and get myself ready in the morning; I have to ensure that medications are in order and that Jack is showered and dressed. I am always thinking about new issues, such as, "Does this restaurant have a big enough door for Jack to get through?"
What activities do you like to do to relax?
I like to read books, which particularly helps with my anxiety. I also enjoy exercising and going on walks, spending time with friends, and volunteering.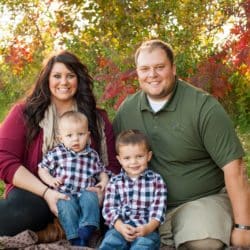 My Story
Megan and her fiance Jack were only engaged for two weeks when he was severely injured in Afghanistan, resulting in a double, above the knee amputation and the loss of use in his right hand. She wasn't thinking about how our lives had changed or the challenges we faced. Megan only wanted Jack to open his eyes and recognize her. After two months in the hospital, they were married and Megan remained by her husband's side for the 18 months and 20 surgeries his recovery required. She dressed wounds, encouraged him to learn to walk using prosthetics, drove him to appointments every day, and helped him learn a new way of living.
Megan remembers the exact moment of when she realized what life will be like. Jack and her were allowed to leave the hospital for the night and stay in a hotel. Jack accidentally tipped his wheelchair in the hotel hallway and fell on the floor, with no way of getting back in his chair alone, and with no hospital staff to help. She's learned that "How will we get through this?" is a question military caregivers often ask themselves.
Today, Megan and Jack reside in Minnesota with their two sons. While managing the household and family full-time, and volunteering with various community organizations, she was also able to finish college and obtain her Bachelor's in Communication Studies.
As a Dole Fellow, Megan works to establish more caregiver support groups throughout Minnesota. Despite the difficulties, she's learned to keep the fun in their lives, sharing videos online with her platform - Real Amputee Housewife. Megan creates videos and posts that have lifted their family's spirits and show off the cool and capable things Jack can do.