I've learned more about myself over the past three years than in the previous 37.
What are the most significant lessons you have learned from being a caregiver?
I've learned more about myself over the past three years than in the previous 37. I think that the most significant lesson is how resilient I am. I've been amazed at what I have been able to handle and accomplish during the most difficult part of my life.
What does being a military caregiver mean to you?
When I married my husband 15 years ago, I became a military spouse – a member of a small, tight-knit group. Military spouses are always ready to help and support not only their significant others, but the entire unit, each other, and their families. When my husband was injured, I became a member of an even smaller, tighter group that I didn't know existed. This group is no longer just spouses, but moms and dads, brothers and sisters, and my personal favorite, military children. They've seen so much, are wise beyond their years and are the most adaptable people I know. I was fearful when my husband was injured that I would lose my tribe of military spouses, but I actually gained a new tribe of more diverse, wonderful people.
Can you describe a milestone or a moment that made you feel empowered or inspired as a caregiver?
Prior to his injury, my husband was a runner. His physical abilities were part of the way he led, always out front, being the example. With the amputation of his leg, he lost much of his physical abilities and in turn a lot of his self-esteem. I knew I had to get him back into running but it seemed almost impossible. It was at that point that Noah Galloway was on the cover of Men's Health. I was hesitant to show him, because I wouldn't want to be shown a cover model and told "see, if he can do it…" but the beginning of his story was so relatable. I showed Matt the article and it triggered something in him. He started running 50 yards at a time and slowly worked his way up to miles. In October 2015, we ran the Army 10 miler together, finishing in 1:50. This brought back so much confidence in himself and our children saw that their father was going to be ok.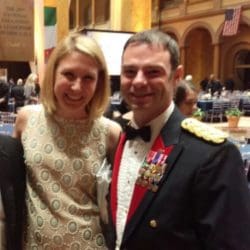 My Story
On June 8, 2013 Megan's husband, Matt, was shot in an "insider attack." Due to severe vascular damage, his right leg was amputated above the knee. He arrived at Walter Reed National Military Medical Center eight days later and she was there to meet him. Though they didn't know it at the time, Bethesda was soon to become their home. As a caregiver, Megan's first priority was to establish a normal routine for her family and to support her husband's recovery. They enrolled their two sons in school, became active in their church, and purchased a home in the nearby community. After nine short months, Matt returned to active duty in the Army.
The physical wounds one receives in combat are obvious, and the treatment plans are well choreographed and relatively straightforward. However, the mental wounds are just as debilitating and are far more complex to treat. As a Dole Caregiver Fellow, Megan raises awareness of this problem and works to remove the stigma often associated with seeking help. She also advocates for the smaller population of caregivers and service-members who returned to active duty to ensure they are given the same considerations as the veteran population.