It's an honor to be able to serve him and take care of him, as more than his wife.
How do you find strength in the difficulty of your day-to-day?
I'm a very faithful person. I rely on my faith for strength. I take care of a veteran who is spectacular—the easiest person to help.
How does the Hidden Heroes community help you?
I enjoy being part of the inspiring and supportive Hidden Heroes community. The resources shared are informative and often help me.
What do you think is the biggest misconception the military community has about your situation?
The military community doesn't realize how many veterans have amyotrophic lateral sclerosis (ALS). A veteran is more than twice as likely to have ALS than a civilian. In general others are unaware of how hard a disease it is. ALS is catastrophic and all consuming, for both the person who has the disease and the person's caregiver.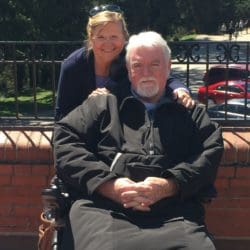 My Story
Mary and her husband, Tom, are kindred spirits who share a loving marriage of nearly 40 years. Tom's service as a Marine dates back to 1972-1975. In 1993, 13 years into their life together, Tom contracted encephalitis and after a lengthy treatment, signs of cognitive difficulties surfaced. In 2010, Tom was diagnosed with amyotrophic lateral sclerosis (ALS). ALS is a progressive disease that veterans develop in rates higher than the general population. 
In addition to caring for Tom, Mary has earned two graduate degrees, had a career in health care, and is now an online high school teacher. Periodically, she writes articles for the ALS Association, and enjoys blogging and photography. Mary and Tom have two adult children and a grandson who lights up their world.
As a Dole Caregiver Fellow, Mary hopes to encourage, support, and inspire other military caregivers and to draw attention to ALS.