Caregivers, make sure to take time for yourself even if it something small that you can do at home.
At what moment did you realize you were a military caregiver?
I realized I was a military caregiver when life was no longer the same, and my husband needed my help with cognitive skills and activities of daily living.
What is one piece of advice you would offer to other military and veteran caregivers?
Never take life for granted, enjoy everyday with the ones you love. Make sure to take time for yourself even if it something small that you can do at home.
What does being a military caregiver mean to you?
Being a military caregiver to me means providing the best love, in home care, and advocating for my veteran husband. A time card does not exist in our world, so patience and understanding is key.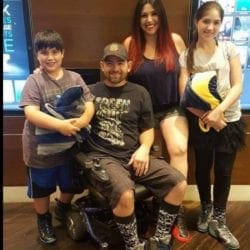 My Story
Krystle Hamlett of Aguanga, California is a military caregiver for her husband William "Billy" who served four tours in Iraq and Afghanistan over a five-year period. Billy was working as a Drill Instructor at Marine Corps Recruit Depot San Diego when Krystle learned that he needed to be immediately transferred to Wounded Warrior Battalion aboard Camp Pendleton for post-traumatic stress disorder (PTSD) treatment and surgeries to address physical injuries lingering from his deployments. After three years of psychological therapy, several unsuccessful surgeries and physical therapy, Billy medically retired from the Marine Corps and is now wheelchair bound.
Krystle serves as Billy's full-time caregiver, helping him cope with daily challenges he faces with PTSD and assisting him with activities of daily living such as dressing, bathing, preparing meals, transferring, feeding, assisting with prosthetics, driving, and managing medication, in addition to caring for their two children.
After experiencing feelings of isolation, Krystle navigated to the Foundation's online military caregiver community to seek support. Her personal caregiving journey has inspired her to raise awareness of the importance of caregivers taking time for self-care to avoid potential burnout. Krystle started her own 501(c)(3), Caregiver Healing Foundation, an organization that provides self-care boxes to military and veteran caregivers. She would like to build upon her foundation and ultimately organize caregiver retreats that focus on healing and relaxation.
As a Dole Fellow, Krystle is looking forward to advocating on behalf of military caregivers in California and across the nation. Her goal is to work with the Foundation to expand respite care options in her state so caregivers are more able to practice self-care.