Life now is more about living in the moment, play everything by ear, and always leave room for change
What's one resource that has helped you as a caregiver and how?
Other caregivers, being able to talk to someone that understands has been a blessing.
What does being a military caregiver mean to you?
It means carrying my husband when he can't walk.
Can you describe a milestone or moment that made you feel empowered or inspired as a caregiver?
The moment I was able to talk about it with other caregivers.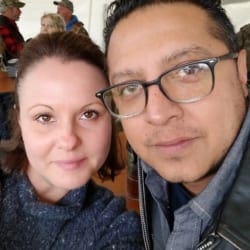 My Story
Alicia Maddaloni of Wasilla, Alaska is a military caregiver to her husband Angelo who served in the Marine Corps for 20 years. Since becoming a caregiver, Alicia has worked to connect caregivers to build a supportive community.
Angelo was diagnosed with a traumatic brain injury (TBI) and other physical injuries, including spinal damage, after he returned from his third and final deployment in 2008. It was not until 2010 that Alicia noticed how significant his injuries were, and that she began needing to remind him to take his medications, driving him to doctors' appointments and surgeries, and helping calm him down when his anxiety kicked in.
As a caregiver, Alicia continues to handle these responsibilities on a daily basis, in addition to caring for their three children. Because of Alicia's help, Angelo is able to continue his career in the federal government.
Alicia likes being creative and finds crocheting to be a great stress reliever. She also enjoys painting and creating pottery with Angelo.
Alicia has been empowered by the support of other military caregivers and pays that support forward by responding to online questions about caregiving from her peers. As a Dole Caregiver Fellow, Alicia hopes to build a community and bring better respite opportunities to Alaska's military caregivers, so they can better take care of themselves and their warriors.