Legacy of Senator Elizabeth Dole
By Emery Popoloski
Dole Caregiver Fellow | Class of 2014
The Elizabeth Dole Foundation has the privilege of commemorating Women's History Month with a leader who proved the absolute equality of women and blazed new trails for generations to follow. 
Senator Elizabeth Dole showed signs of her future as a compassionate leader at a young age. In a speech she delivered while still in high school, Senator Dole spoke with a perspective well beyond her teenage years. She said, "Service is the highest form of happiness. It is giving, not only of our means and time, but of ourselves; not for the love of praise, but for our fellow man."
Such moral-grounding, poise and grace were instilled in her by another remarkable woman, her mother, Mary Hanford. However, the Senator was determined to pursue her calling of service far beyond what her family or our society expected of women at that time. 
After high school, the Senator attended Duke University when it was still split into two campuses, separating the male and female students. Tellingly, she was named "outstanding leader" by both student bodies. Despite her success as an undergraduate, the assumption was that the Senator, like all women, would find a husband before graduation and make plans to settle down. She stayed true to herself though. "I just felt this pull to live in another part of the country and to broaden my horizons," the Senator later said. "There were so many things I wanted to do."
One of those goals was to attend graduate school. Senator Dole was admitted to Harvard Law School where she encountered a level of sexism that paints an astonishing picture of the obstacles placed before women. On her first day, she was berated by a male classmate for taking a man's spot at the school. One professor declared "Ladies Day," the single day of the semester when women were called on in class. The Senator and the other female students were required to recite poetry in front of the male students and were only deemed credible to comment on legal cases involving women. True to the Senator's spirit though, she persevered. 
Senator Dole went on to pursue a life in public service where she devoted her fullest measure to what was right for the nation and in the best interest of its people. Her devotion often made her a pioneer in previously male-only arenas. She became the first woman appointed Secretary of Transportation, the first woman to lead a service of the Armed Forces, the first woman to represent North Carolina in the U.S. Senate, and first woman to lead the American Red Cross since its founder, Clara Barton. Senator Dole is among a select group of people to have held multiple Presidential Cabinet positions, and she helped pave a path for women seeking the highest office in the land, with her own Presidential bid in 1999. More historic than the titles are the milestones she achieved while serving these roles. They are too numerous to do justice in this post, but I encourage reading more about her story.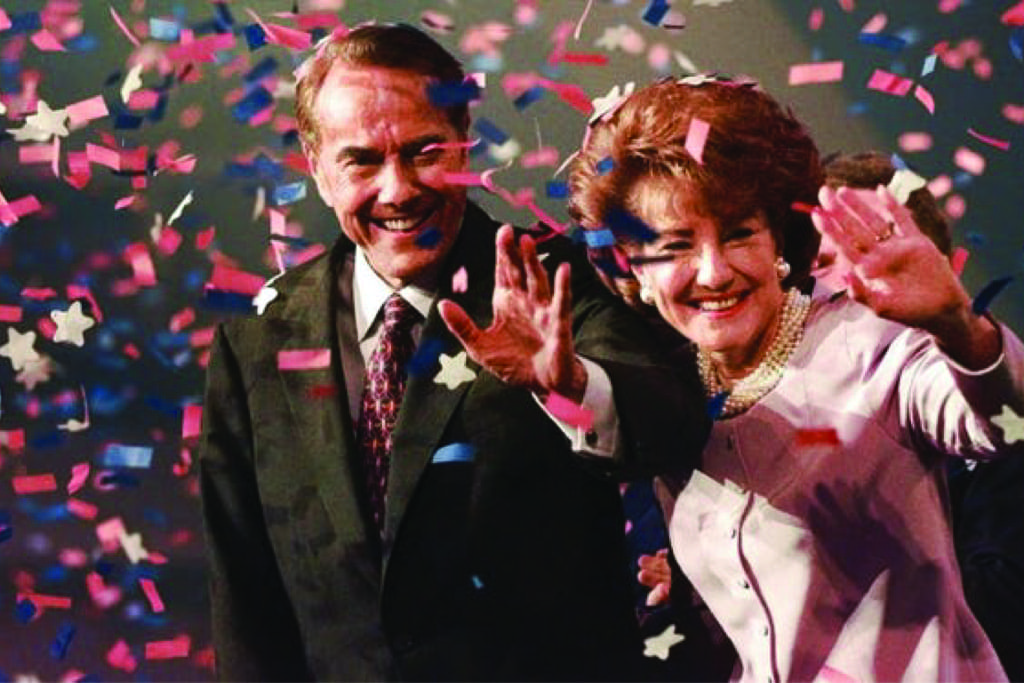 When Senator Dole wasn't cracking glass ceilings, she was shattering them. However, her success did not make her immune to the criticisms that women unfairly receive more than men. During Senator Bob Dole's presidential runs, Senator Elizabeth was often judged for pausing her own career to campaign by her husband's side. Of course, if she had stayed in her positions and off the campaign trail, she might have been labeled an unsupportive spouse. It was the lose-lose situation that women leaders so often face. As always though, Senator Dole didn't let the judgement of others deter her from doing what she thought was right. 
Senator Dole's legacy—including the national movement she has led in support of military caregivers—has always been motivated by her unwavering commitment to serve others. As the Senator said in her high school address, "He who performs kindness to others for the sake of show, recognition, or popularity does not know the meaning of service… The true value of service lies in how much the individual puts into it."  
The dedication and encouragement to all who work and volunteer within Senator Dole's Foundation has helped many to achieve their goals. Whether it be starting their own community based non-profit, attending higher education, or simply believing in themselves during a difficult experience. For many women, she has encouraged them to not only push forward, but to also extend the support and friendship outwards, to those they meet along the path of their own respective journeys.
I wonder if that young woman in Salisbury, North Carolina could have imagined she would grow to be the quintessential example of such servant leadership, paving the way for generations of women and making the world better for us all. 
Emery Popoloski (left) with Senator Elizabeth Dole