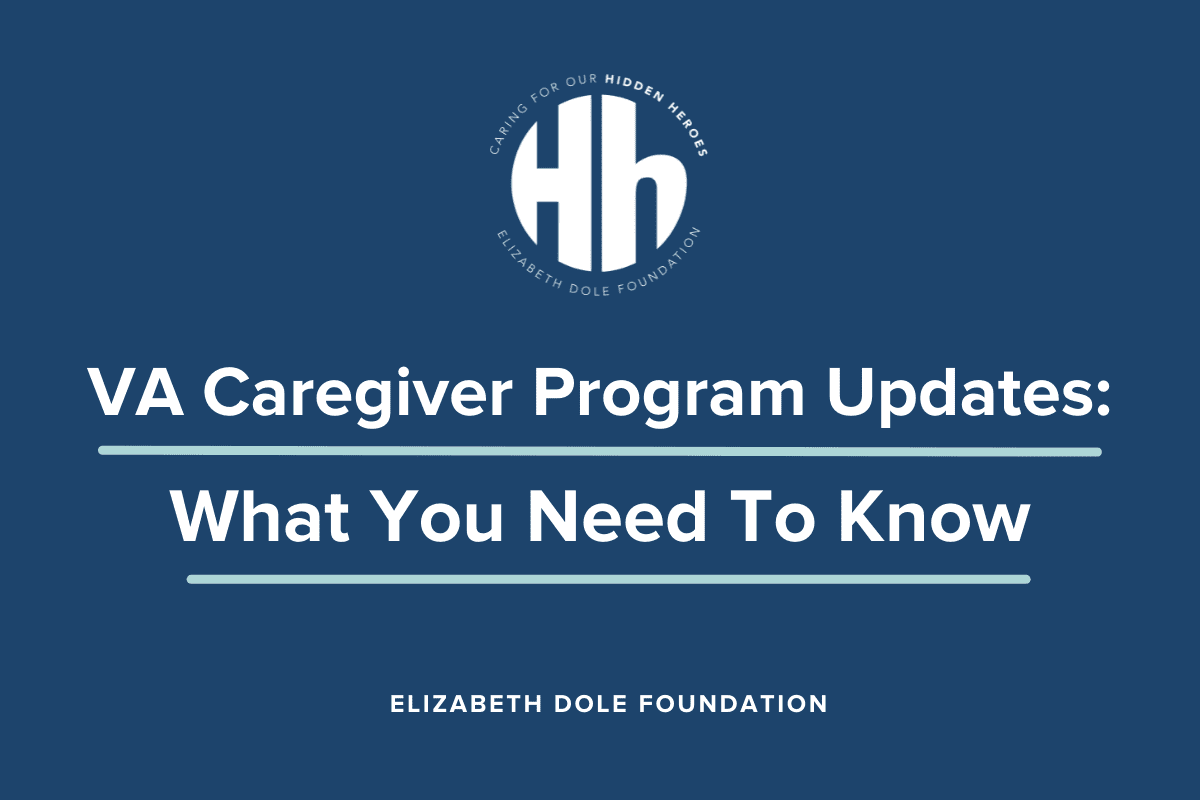 In recent weeks, and unfortunately around the Thanksgiving holiday, the U.S. Department of Veterans Affairs (VA) began sending notifications to individuals who have been participating in the VA's Program of Comprehensive Assistance for Family Caregivers (PCAFC) about their new status in the program as a result of the MISSION Act.
We recognize that this transition and the timing of the notifications are causing anxiety and confusion among many of the veteran caregivers we serve. As always, the Elizabeth Dole Foundation's mission is to ensure that all military and veteran caregivers, regardless of era served or relationship to the veteran, are well-served and supported.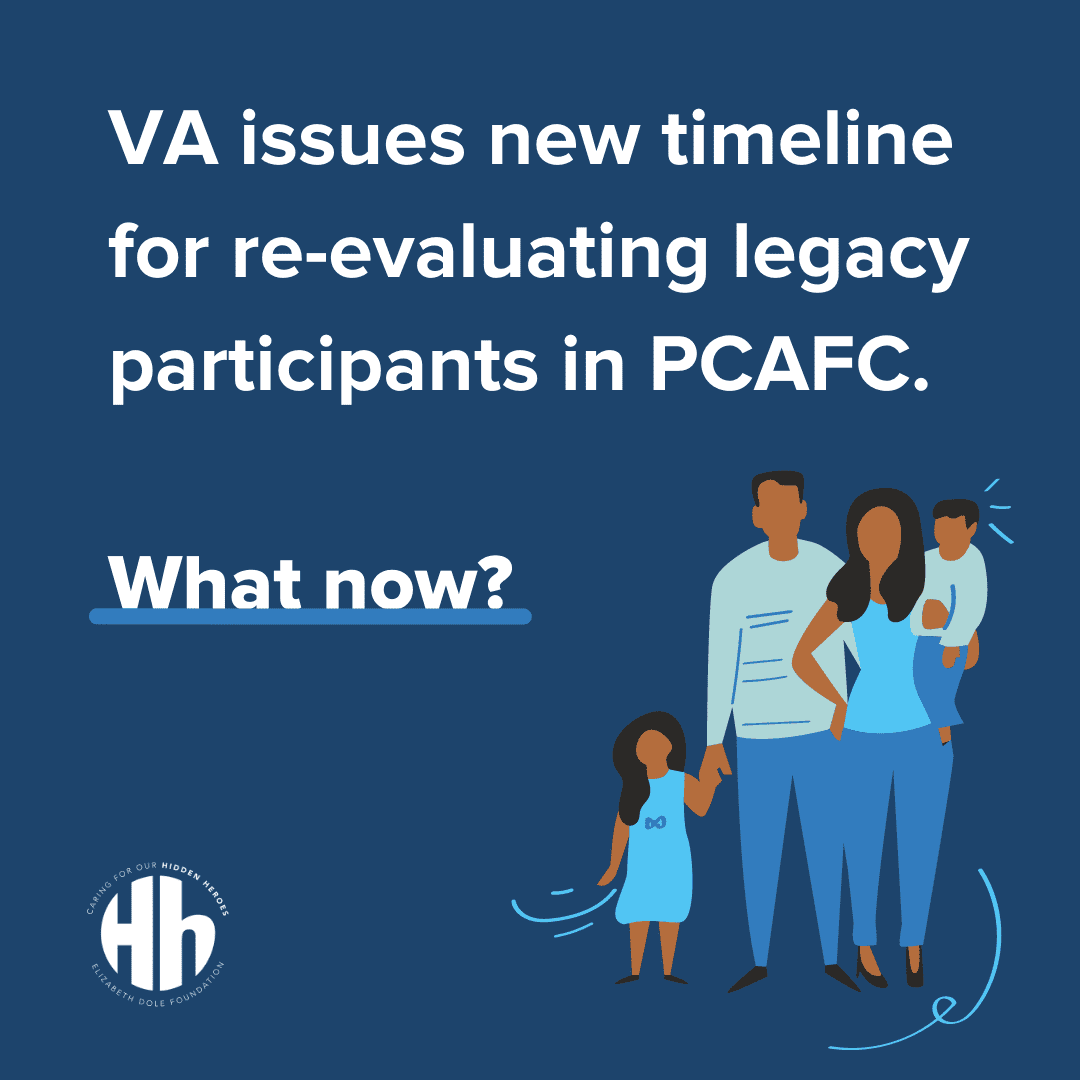 HOW WE GOT HERE
Taking a step back, the VA MISSION Act of 2018 expanded the PCAFC program to include caregivers supporting veterans of all eras. To address this new change, in October 2020, VA published a Final Rule to clarify new eligibility for the PCAFC program. New criteria were established to ensure that veterans with the most acute needs were being served and enough resources were available to support the new group of caregivers that would become eligible during Phase 1 and Phase 2 expansion.
The new criteria places greater emphasis on the frequency and cadence of the Activities of Daily Living (ADLs) in which veterans need assistance. ADLs include eating, bathing, dressing, transferring, and toileting. EDF has raised concerns about these new criteria in all of our public comments and feedback to the VA, particularly around how caregivers and veterans will be evaluated to determine if support for ADLs is needed on a "daily basis" and "each time" they perform an ADL. For more information on the Final Rule, click here.
EVALUATION OF LEGACY PARTICIPANTS 
Participants who applied or were accepted into the PCAFC program before October 1, 2020 are considered Legacy Participants. In accordance with the Final Rule, these participants are to be re-evaluated to determine whether or not they meet the new criteria. These re-evaluations were planned to be completed by October 1, 2021, however the VA was unable to complete them due to the influx of new PCAFC applications. To address this, the VA is continuing to conduct re-assessments past October 2021. If a Legacy Participant is found to be eligible for a higher tier, they will immediately be moved and see an increase in their stipend. However, if a Legacy Participant is found to be ineligible for PCAFC under the new criteria, they will stop receiving their stipend on October 1, 2022. For more information on Legacy Participants, click here.
If you have been removed from PCAFC and disagree with this determination, a recent court ruling has allowed caregivers and veterans to appeal their decision. Over the next six months, all PCAFC applicants will receive a letter explaining their appellate rights. For more information on the appeals process and VA forms, click here.
HOW IS EDF RESPONDING?  
We have been in close contact with the VA to understand the process, provide direct feedback from the caregiver community, and offer tools to educate caregivers about resources available to fill the gaps in support. The VA's Central Office has demonstrated an eagerness to be alerted to rising issues, so we will continue sending regular updates.

We will be meeting with VA leaders to discuss these issues and flag specific areas of concern. Please email us at [email protected] if there is an issue you are facing at your local VA facility. We are also working to coordinate an online forum for VA leaders to hear directly from caregivers on the challenges being experienced. Additionally, in her role as Chair of the VA Federal Advisory Committee for Families, Caregivers, and Survivors, Senator Dole will be requesting a full report on the details of PCAFC expansion during the Committee's first meeting in 2022.

We are updating our Congressional partners on the tensions some caregivers are experiencing being dropped from this program. Nearly half of denials are due to an "inability to perform an activity of daily living or a need for supervision, protection, or instruction" for a minimum of six months. The reality of this criteria is being felt overwhelmingly by those who are caring for a veteran with an invisible injury, such as a traumatic brain injury (TBI).

If you need guidance before your re-assessment, or if you have received notification that you are no longer eligible for PCAFC and you are in need of help, please let us know. Our partners at Quality of Life Foundation are available to support you with your case management needs. They have user-friendly guides on navigating the PCAFC application process from start to finish, including tips to prepare for the Activities of Daily Living (ADLs) and Supervision, Protection, and Instruction assessments. If you'd like us to refer you to Quality of Life Foundation, please email [email protected].

EDF is working night and day to expand direct care programs to better serve our community. If you are a caregiver in need of support, you may be eligible for other Foundation offerings including:

Nutrition and food stipends from our partners at DoorDash
Peer support via the Hidden Heroes Caregiver Community
Launching in early 2022: Critical financial assistance program that will provide direct grants to caregivers who need it most, thanks to our amazing partners at the Bob & Dolores Hope Foundation.
Coming soon: Mental health and wellness pilot program, that will connect our caregiving community with access to new mental health resources and virtual peer support to navigate challenges and crises.
The Elizabeth Dole Foundation has created infographic guides based on VA resources to understand the nuances in the PCAFC Legacy Evaluation and Appeals processes and to break down these complex issues. Click on the attached links to learn more.
In closing, let us make something very clear: your identity as a caregiver is not defined by your enrollment in any VA, government, or nonprofit program. Caregiving is a selfless mission of love and devotion, and a service to this nation. No person, entity, or organization can take that away by your enrollment status in any program. Your concerns are valid and your experiences guide our work every single day.
Please know the Elizabeth Dole Foundation sees you and recognizes the critical, 24/7 role you play. And we will always be on the frontlines, serving and supporting you and your loved ones.
---
Our CEO, Steve Schwab, has a message for caregivers who are being transitioned out of the PCAFC program. If you need guidance before your re-assessment or have received notification that you are no longer eligible for PCAFC and need help, email us at [email protected]. 
Please know you don't have to navigate this alone. We're here for you with resources and guidance. Lean on us.
---
Representatives Julia Brownley (D-CA-26) and Jack Bergman (R-MI-01) introduced The Elizabeth Dole Act. This bipartisan, comprehensive, and transformative legislation is named in honor of Senator Elizabeth Dole as a testament to her advocacy on behalf of the nation's 5.5 million military and veteran caregivers. 
Recently, within the very chamber Senator Elizabeth Dole served, Senators Jerry Moran (R-KS), Maggie Hassan (D-NH), and Jon Tester (D-MT), of the Senate Veterans' Affairs Committee (SVAC) introduced the Senate version of The Elizabeth Dole Act, underscoring the momentum this bill has achieved in Congress, and the bipartisan spirit we're witnessing for supporting our nation's hidden heroes.
The Elizabeth Dole Act reinvests in caregiver support at the U.S. Department of Veterans Affairs, establishes a user-friendly resource center, and expands VA Home-Based Community Services nationwide. This legislation provides greater access to resources and helps to determine which services provide optimal support for the caregiver and their family as they navigate a complex web of available help. 

To learn more about The Elizabeth Dole Act and ways you can express your support of the bill to members of Congress, click here.
---
As of March 22, the U.S. Department of Veterans Affairs halts all removals and is reversing course on the evaluation determinations and eligibility formula for caregivers applying for the VA's Program of Comprehensive Assistance for Family Caregivers.
Over the last six months, the Foundation and our close partners have held countless discussions with the VA voicing our deep concerns on the evaluation process and the negative consequences being felt largely by legacy post-9/11 caregivers and their veterans who are being removed from the program in large numbers.
As a result of our collective efforts, thousands of veterans and their caregivers who were previously notified will not be transitioned from the program while a new evaluation and eligibility criteria are developed with the full engagement of the community. 
You can learn additional information about the decisions, here.
This post  has been updated with additional information for accuracy and comprehensiveness.