First Lady continues to highlight America's hidden heroes and hidden helpers

caring for wounded, ill or injured service members

and veterans

at

home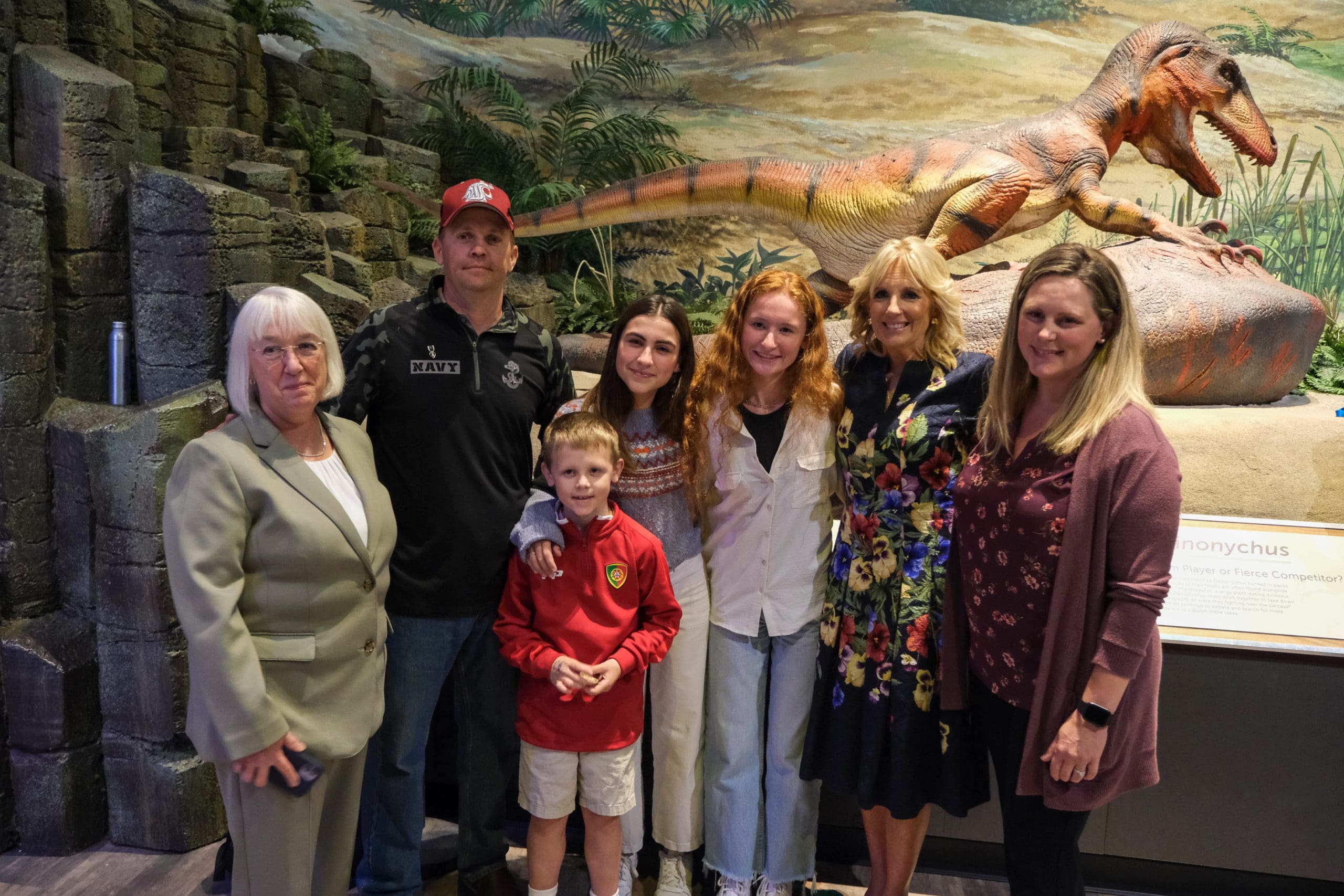 Washington state military caregiver Kristin Christensen, daughter Avarie, and family meet First Lady Jill Biden and Senator Patty Murray at the Pacific Science Center on October 8, 2022.
Washington, D.C. (February 7, 2023)— Today the White House announced First Lady Dr. Jill Biden invited Dole Caregiver Fellow, Kristin Christensen, and her daughter Avarie to be her guests at tonight's State of the Union address. This is a significant milestone in making military and veteran caregiver and children support a major national priority.
Dr. Biden has been a passionate champion of military caregivers and the mission of the Foundation from its earliest days. In 2014, she and then-First Lady Michelle Obama invited the Foundation to announce the formation of the Hidden Heroes Coalition from the White House. In November 2021, Dr. Biden invited the Foundation and Wounded Warrior Project® (WWP) to launch the Hidden Helpers Coalition, focusing on military and veteran caregiver kids and youth. Dr. Biden met Kristin and Avarie in Seattle in October when she joined a Hidden Helpers event hosted by the Elizabeth Dole Foundation and WWP.
Kristin serves as a caregiver for her husband, Michael, who sustained a traumatic brain injury (TBI) and post-traumatic stress disorder (PTSD) as a result of his military service. As one of America's 2.5 million hidden helpers, Avarie assists her mom with her caregiving role. Hidden helpers are the children, youth, and young adults who support the care of a wounded, ill, or injured veteran.
Hidden Helpers is a national initiative co-led by the Foundation and WWP inspired by the findings of a study commissioned by the Foundation and conducted by research firm Mathematica. Hidden Helpers at the Frontlines of Caregiving: Supporting the Healthy Development of Children from Military and Veteran Caregiving Homes, powered by WWP, found that military caregiver kids and young adults struggle with feelings of stigmatization and being misunderstood in social and healthcare settings, and experience significant disruption in their lives, leading to elevated levels of distress. Experts believe this distress can severely impact their emotional and psychological development, long-term well-being, as well as learning in school. Caregiver kids and youth also take on household and family responsibilities and suffer from loss of time with their caregiver parent who must divide their attention to meet the veteran's care needs.
To speak to Avarie or Kristin, please contact Austin Courtney, [email protected]
To learn more, visit www.hiddenheroes.org/hiddenhelpers.
---
About the Elizabeth Dole Foundation and Hidden Heroes
The Elizabeth Dole Foundation is the preeminent organization empowering, supporting, and honoring our nation's 5.5 million military caregivers – the spouses, parents, family members, and friends — who care for America's wounded, ill, or injured service members and Veterans at home. Founded by Senator Elizabeth Dole in 2012, the Foundation adopts a comprehensive approach in its support and advocacy, working with leaders in the public, private, nonprofit, and faith communities to recognize military caregivers' service and promote their well-being. The Foundation's Hidden Heroes campaign brings vital attention to the untold stories of military caregivers and provides a network for military caregivers to connect with their peers and access carefully vetted resources. Visit hiddenheroes.org for more information.
About Wounded Warrior Project
Since 2003, Wounded Warrior Project® (WWP) has been meeting the growing needs of warriors, their families, and caregivers — helping them achieve their highest ambition. Learn more.