The Elizabeth Dole Foundation announced that actor Ryan Phillippe (USA Network 'SHOOTER') has joined the Foundation's Hidden Heroes, a multifaceted campaign to expose the tremendous challenges and long-term needs our nation's 5.5 million military caregivers face every day and to inspire Americans to take action.
"My father and both of my grandfathers served in the military. I grew up knowing that our nation's veterans are heroes," says Phillippe, who stars in a new Hidden Heroes public service announcement. "Thanks to Senator Elizabeth Dole's efforts, I've learned about a different kind of hero, military caregivers. They are hidden heroes, family members or friends who care for warriors who return home wounded. I look forward to making a difference on their behalf. "
In celebration of Veterans Day, Phillippe appeared on NBC News' TODAY to talk about Hidden Heroes and his recent visit to the James J. Peters VA Medical Center in the Bronx, N.Y. At the VA Medical Center, Phillippe spent time speaking with injured and ill veterans and their caregivers, toured the Spinal Cord Injury Research Center and met with the VHA Social Work Team to discuss the VA's Caregiver Support Program.
Additionally, the Foundation launched a new PSA featuring Phillippe with military caregiver Heidi Woodring and her husband, U.S. Army veteran Chris Woodring. In the PSA, Phillippe encourages military caregivers to visit HiddenHeroes.org to find helpful resources and connect with other caregivers. The broadcast version will air on USA Network and other NBCUniversal networks, as well as television stations across the country. The print version will appear in national magazines and newspapers.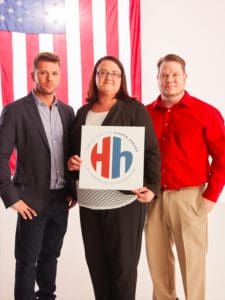 "We are honored to welcome Ryan Phillippe as a Hidden Heroes Ambassador," says Senator Elizabeth Dole, who established the Elizabeth Dole Foundation to address the nation's military caregiver crisis. "Because he has been such a strong advocate for military families both on-and-off screen, we are very fortunate to have Ryan's support."
Phillippe stars in SHOOTER, USA Network's new conspiracy thriller. The series follows the journey of Bob Lee Swagger, a highly decorated veteran who is coaxed back into action by his former commanding officer to prevent a plot to kill the president. Swagger soon discovers that he has been framed and must do everything in his power to protect his family and clear his name.
Through Hidden Heroes, military caregivers were given a sneak peek of SHOOTER's premiere which debuts on USA Network ‪on November 15 at 10‪ p.m. EST/9 p.m. CST. Caregivers hosted "In-Home Premiere Parties" as forums to discuss military caregiving with their friends. USA Network is a proud supporter of Hidden Heroes as part of corporate parent Comcast NBCUniversal's commitment to our nation's veteran and military community.