Finding a Daily New Normal
My day starts early while my love is snuggled warm and cozy in bed. As I crawl out of bed, his service dog, Ava, knows that this is her cue to cuddle up with her person. Over the years, I have learned the value of taking this time in the mornings for myself. This is the time that I know he is safe while I'm off at the gym. I come home, set out his daily medication, and check our daily schedule – all before he gets out of bed. He counts on this routine, this structure, so he can function. He also has found comfort in the routine because it reminds him I care. Hi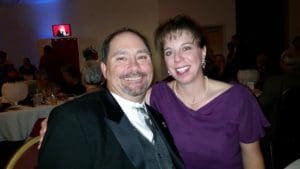 s medications and his breakfast bowl on the counter are a daily reminder of my devotion to him.  
Keeping a daily routine isn't a reality for the life that happens around us. Living with a man who has a brain injury,
together we have learned to live with an ever changing daily new normal. We know we will live with the side effects of war for the rest of our lives – I accept this, but he struggles with it. It means learning how to be creative with these side effects that can get interesting.  First, I have to separate the man from the injuries along with accepting the man he is now. Then, I must accept that I am the one who has to initiate the hand holding or cuddles on the couch. Finally, I must give myself permission to be "OK" with that.
It is a delicate balance between meeting my love's daily needs and our daily needs as a couple. It takes work respecting our space while joining together as couple. Our relationship is the most creative verbal word search game ever played – finding the words he understands while helping him find his own words to say. For us, this isn't the life we have chosen but it has brought us closer together. For now, we are fully accepting of the work it takes to keep a marriage together.